We're always told change takes time, but when road safety outside Kings Heath Primary school continues to deteriorate over a matter of years, it's hard to believe it'll ever happen. Here's some of the feeble myths and excuses I've been given:
'Someone has to die before anything can be done'
This is advice I've been given directly by representatives from our Highways Authority and indirectly via what local Councillors and the Head teacher at Kings Heath Primary have been told by the Highways Authority. People have died - 100 yards from the school
Hope Fennell died
, and nationally, many more on their way to and from school.
Section 39 of the
Road Traffic Act 1988
sets out the statutory duty for highway authorities to measure, promote and implement road safety measures:
"..the highway authority must also carry out accident studies on roads within their area, and take appropriate measures to prevent accidents."
The fatality statistics is only one of many studies our Highways should be taking into consideration. Are our Highways Authority really only interested in road safety once someone has died? If so, are statutory duties being breached?
'Residents object to double yellow lines outside their house'
Valentines Road with painting by KHP children
Sustrans conducted extensive research
on Valentines Road, including a street closure with a road carpet painting experiment. As far as I am aware, no objections were made by any local residents - if they had, the street closure could not have happened. Speaking as someone with double yellow lines outside my house, I'm glad cars are (mostly) discouraged from parking on or near the pavement.
Ms. Hanson, Headteacher at Kings Heath Primary has attended 'numerous meetings' over many years to attempt to have double yellow lines on this stretch of Valentines Road.
Do Highways have any evidence of 'objections', and are we able to see them? Even if residents do object, road safety, under the Road Traffic Act should, of course, be more important to Highways authorities than resident preferences.
'Restrictions on parking are getting worse and worse'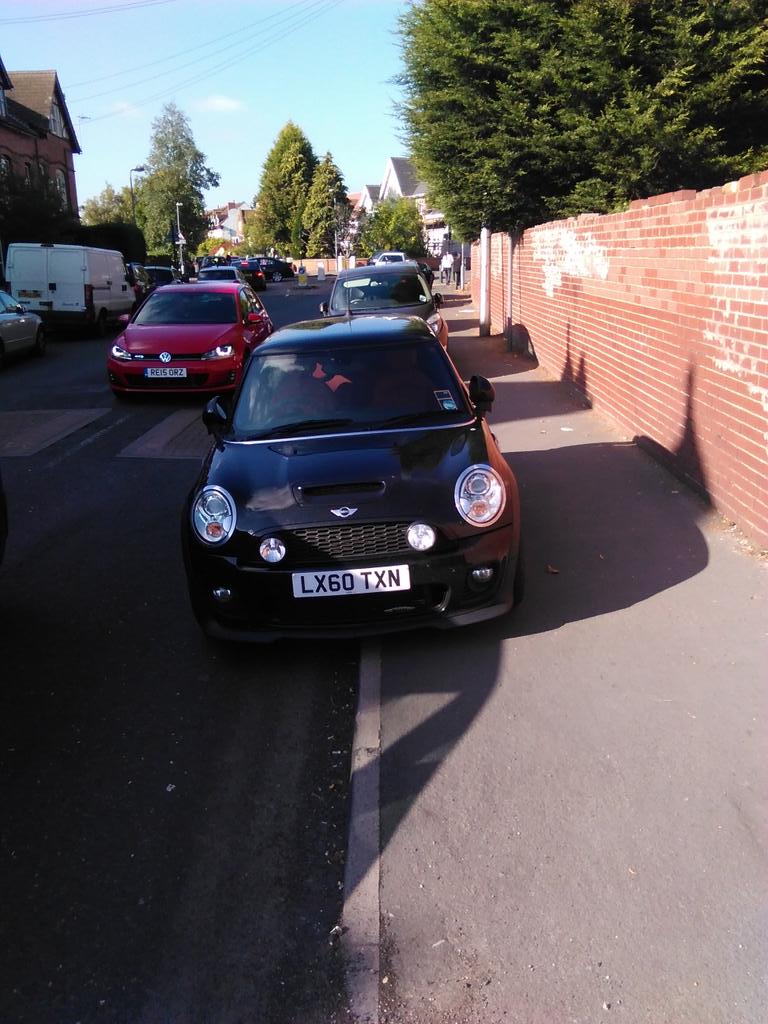 Clearly showing erased double yellow lines
on Springfield Road outside KHP
Well, on the stretch of road outside Kings Heath Primary, double yellow lines have been removed over the summer, and not replaced. There are no lollipop people reserve staff, so if ill, we have to do without. This has meant most days so far this term we have been one lollipop person down - they have been very effective in guiding people away from dangerous parking, which is now far more routine outside our school - see the video.
'It's a nightmare, I can't park my car anywhere near the school'
It is a nightmare - parents need to be actively encouraged to park further from the school, or find other ways to get there - there has been a steady erosion of road safety outside Kings Heath Primary School - there are more cars, more of them parking dangerously, and less attention by the Highways Authority to do anything about it -painting double yellow lines to prevent dangerous parking is really a minimum.
Brook Lane dangerous pavement parking
forces pedestrians into the road - with parking tickets
This week it is sunny and bright on the way to school - next week it could be dark and wet, meaning more cars, and more accidents and near misses. I have three children who have had
one serious accident
, and numerous near misses on the way to school. Our children are blameless and vulnerable, and have a right, in law to arrive safely at school. Our Highways Authority should maintain existing (limited) safety measures and could do more to meet basic road safety provision.